Exploring New Markets with Brian Fry
Brian Fry, founder of i4C Innovation in Trail, spoke at the Creston Valley – Kootenay Lake Economic Action Partnership's "Exploring New Markets" Stakeholder meeting at the Ramada on April 4 – which was organized by Kootenay Employment Services Society.
Brian has been working in the tech industry for 33 years in Vancouver, Silicon Valley and the last 21 years in Rossland. He's passionate about using the tech industry to rural Canada's advantage by identifying economic development opportunities.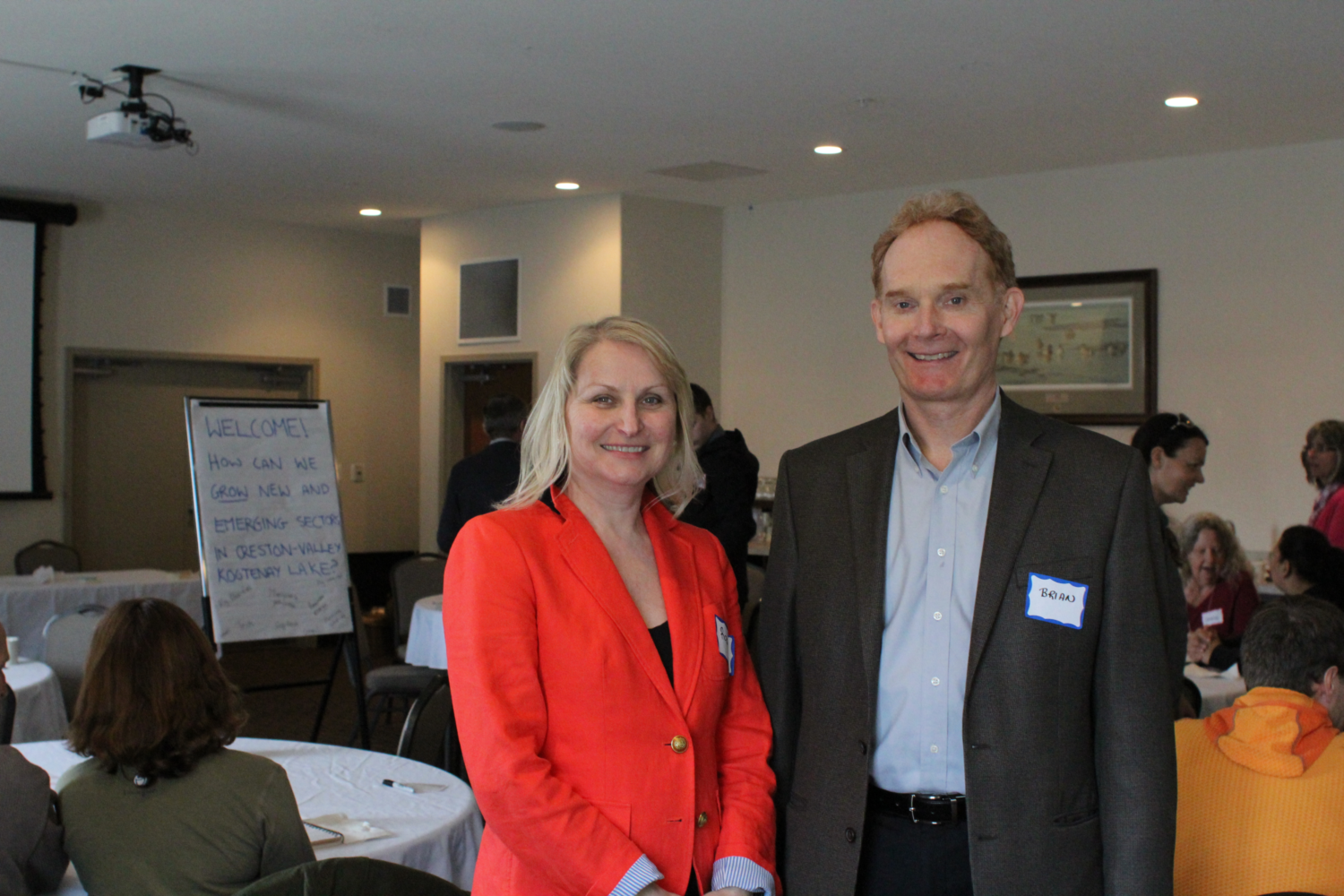 His biggest success to date was cloud Company RackForce, which was sold in 2015 at which time Brian became interested in Internet of Things and the 4th Industrial Revolution (often known as Industry 4.0). i4C helps companies and rural communities (industries even) catch the Industry 4.0 wave.
Brian explained the formula to do this is: Team, Timing, Traction and Technology plus Rural Advantages which are many.
Creston Valley's assets are many including its expertise in agriculture and the fact it has a commercial port (border) in to the US. It is also part of the Columbia Basin economic development zone and has access to a world class fiber optic network from the Columbia Basin Trust.
Recruiting the team is important. You're looking for talent who come from the community or who would be very interested in the community.
Brian stressed the importance of partnering with your economic development group(s) and the success that i4C had doing this. One thing he was especially proud of was the re-branding of the Greater Trail area as Metal Tech Alley. Its advantages are many and clearly understood and marketed. Now it is an opportunity rather than a disadvantage.
He also spoke about having a clear and exciting go to market strategy and explained how i4C had done this and would be happy to share or even partner with other communities. i4C has partnered with CBT To get access to a 40,000sq ft building, Granite Mountain Ventures to get Venture Capital and a debt financing company to finance large projects.
Recruiting talented companies and people is primarily done by focusing on the Americas. When there are difficult challenges and/or risk to people's children they are often willing to move to Canada. Rose Hoeher, also in attendance, works hard to recruit people and to help them settle in to Canada.
Brian explained how i4C has built an Industry 4.0 ecosystem by finding Industrial partners (customers) who are interested in working on and solving complex projects. It then recruits the Technology Partners necessary to deliver on the contract. i4C pays the technology partners in advance and delivers the total solution as a service (monthly payments) to the end customers. Brian also talked about highly technical leading edge ideas.
Rose Hoeher joined Brian to help answer questions. In addition to working for i4C Rose Hoeher is a connector and a builder for the tech industry in the Kootenays. She lives in Nelson, BC and runs many events and activities.
Rose sees the Creston valley as having great strengths in Agriculture and Forestry and these are two Industries ripe for 4.0 disruption. The valley has a bright future combining these traditional industries with advanced technologies. Let's get started.
---
Article written by Elizabeth Quinn
Featured in the Creston Valley Advance – April 19th, 2018